LAURAFRANZ.COM
Good Web Fonts
Lively, subtle, perfectly legible fonts for the web. (blog)
Typographic Web Design
online courses
Visit lynda.com to learn about Typography for Web Designers. (video)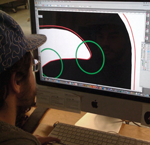 the New Bedford Typeface
1 city, 34 students, 300+ years of lettering and type. (on hiatus)
HistoricType.com
Image database and blog dedicated to lettering on old signs and buildings in the US. (on hiatus)
UMass Dartmouth
The Graduate Certificate in Web and Interaction Design
LFranz[at]umassd.edu
Recent Items
Avoiding Faux Weights and Styles
Read about Avoiding Faux Weights and Styles With Google Web Fonts on smashingmagazine.com. July 11, 2012.
Another Online Course
My most recent Web Typography course, Choosing and Using Web Fonts, is now available on lynda.com. June 27, 2012.
Drop Caps in HTML and CSS
Read about Drop Caps: Their Historic Use and Current Best Practices in HTML and CSS on smashingmagazine.com. April 3, 2012.
Upcoming Activities
Finding, Testing, and Using Web Fonts
I'll be presenting at the 2012 HOW Interactive Design Conferences. Washington DC: September 27–29. San Francisco: October 29–31.
Web Typography: Traditional Methods and Contemporary Technology
Chancellor's Colloquium Series, 2012–13.
I'll present snippets of recent projects that help educate non-typographers (web designers, computer scientists, small business owners, and casual bloggers) how to create legible, pleasant reading experiences.
I'll focus on the intersection of traditional typographic methods and contemporary technology, and how knowledge and skills from one process can be adapted to serve another.
This event is by invitation only. I have a limited number of invitations, so if you are a Design Educator or Professional in the Providence / Boston / South Eastern Mass area and would like to attend, please contact me. Thursday, February 21, 2013 at UMass Dartmouth. Reception starts at 5:30, followed by dinner and presentation.